About Bramwell Brown
Bramwell Brown & Co was bought by Brett Dymond in June 2008, after twenty years under Bruce Bramwell's management. The business had a slight change in name to Bramwell Brown Limited, and continues to offer broking and investment advisory services.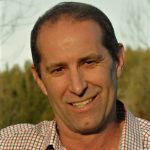 Brett and Bruce share a similar history, both born and raised in the city, yet both pursuing careers milking cows. Bruce sharemilked in the Waikato, and later farmed on his own account in the Bay of Plenty and Wairarapa. Brett left Dalgety Crown in Palmerston North, embarking on what turned out to be a twenty-year career in the dairy industry.
What does Brett bring to clients of Bramwell Brown Limited? "I think integrity would be at the top of the list. You must put clients'  interests ahead of your own. To me that means matching investors' needs with products that suit those needs regardless of what it earns me in brokerage or commission. If I think someone should keep their money in the bank, that's exactly what I'll tell them. I aim to build long-term relationships with clients, and pushing unsuitable products is never going to achieve that."
Autonomy would be next. We aren't salesmen for branded products and we are not limited in the products we can offer investors. Bramwell Brown can access shares both nationally and internationally, bonds, debentures, bank deposits, managed funds, Government Stock, and KiwiSaver products. We have relationships with brokers in New Zealand, Australia and the United Kingdom, all of whom provide research and conduct trades on our behalf.
A further advantage to investors is that we offer a wider scope of service than some financial planners. Many of the larger firms insist on administering client portfolios, charging very high fees to do so.  "I believe investors have been poorly served over the years by some financial planners who charge a variety of fees based on the value of funds under management. Reports are computer-generated in a matter of minutes, and rarely does the adviser earn the administration and monitoring fees through any overt effort. Fees are charged regardless of the performance of a portfolio, and in many cases, fail to add value to a client's financial position." Brett is continually surprised at the fees some investors are paying to those in the financial planning industry. Clients' money is invested with fund managers and they are charged a variety of management, monitoring, and administration fees, sometimes in excess of two percent per annum. On very large portfolios, these fees become excessive. Bramwell Brown Limited places an upper limit on administration fees, so that very large portfolios are not disadvantaged.
For those investors who are happy to administer their own investments, we provide a transaction-only service. Investors pay brokerage on any trades conducted, however do not pay any ongoing management or administrative fees. For those who are happy to administer their own investments, but would also like some guidance, we offer a service of ongoing personalised advice. Clients are charged a flat fee to meet periodically for a review of their financial position.
Brett also brings practical experience through having his own money invested in the New Zealand and international financial markets. "I know what it's like to put your hard-earned capital at risk in the markets. I have invested in shares and bonds for over thirty years, and I relied on investments as my sole source of income for five years so I have a very good understanding of risk and return. I'm also a great believer in value – essentially that's what any service business boils down to. Services are intangible so clients must feel they are receiving value, otherwise they will take their business elsewhere. For Bramwell Brown to thrive it must provide high levels of service at costs that provide investors with value."